Whooo Weee!! If Miss Maybell was walking by a construction site she would get whistled at.
There have been occasions when a guitar just stops me dead in my tracks. Upon receiving this guitar I had the good fortune of experiencing just one of those occasions. Here we have a 1930's Maybell guitar. A little bit of research would indicate that this is a style #25. Here is an ad from the 1930's for this guitar. You can find these catalog listings at
http://www.slingerlandguitar.com/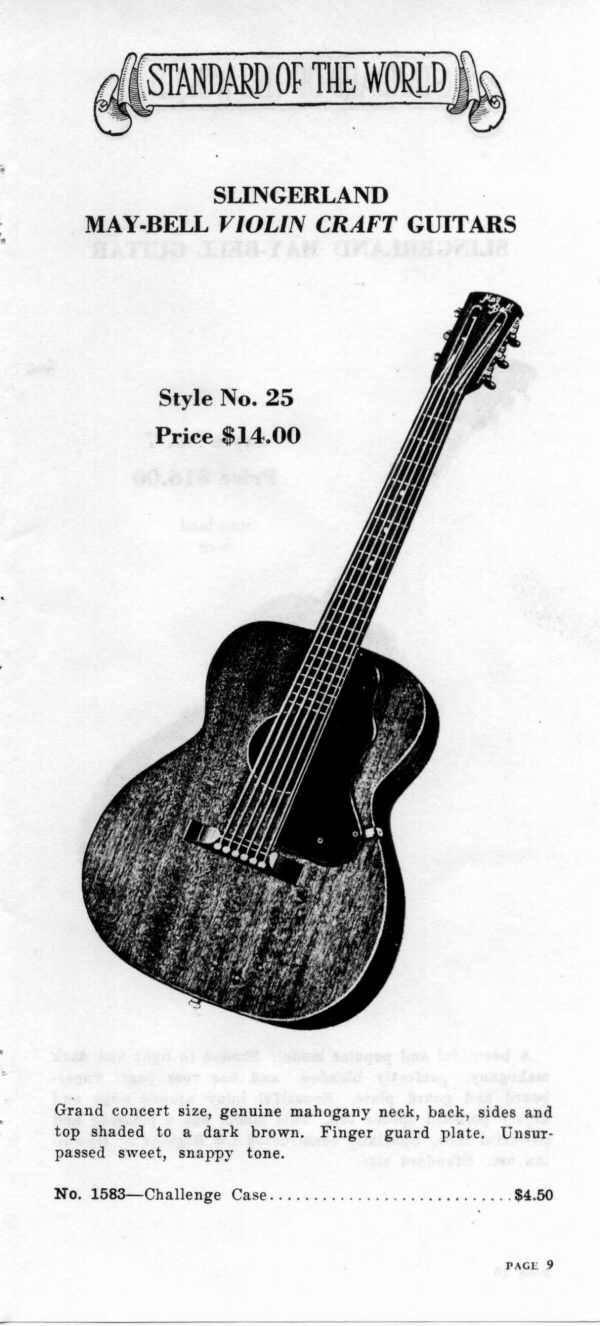 I knew this instrument was a rare bird when I bought it. Upon researching it I was to discover just how rare it was. The above ad is about the only information you can find on this guitar. There are no corresponding pictures, literature or owners that could provide some details. I would never be so presumptuous to say that this is a one of a kind, but what I will say is good luck finding another.
As I alluded to earlier, this is a life changing instrument. It is the kind of guitar that just may leave the rest of your instruments feeling a little left out as they sit in their cases wondering where you've gone. It is a hard instrument to put down. Yesterday, I was dead tired after being up at 5 am for work, came home, put together dinner, put our children to bed and at 10pm with my eyes on the verge of closing, I just had to go out to the studio and play this guitar a bit before hitting the sack. Any instrument that calls on you to forego sleep is a special player.
I'll resume the gushing a bit later. Here are some specs. By Martin standards, or any standards for that matter, this guitar would be considered an orchestra model(OM). It is all mahogany with a really deep dark finish. The lower bout is just under 15.5" wide, the nut is 1.75" wide, there are 14 frets to the body and this guitar has a 25" scale. This guitar is ladder braced, but you would have a hard time knowing it. It has much more complex tonal capabilities than your average ladder braced blues barker and can cover a lot of ground. One of the great characteristics of this instrument is that it handles fingerpicking and strumming equally well and you don't have to baby it when playing it in either style. If this instrument were to be X-braced it would be a Martin killer. As it stands I couldn't be happier with the bracing as the tone is sweet, complex but somewhat slightly unrefined. I've always enjoyed that slightly unrefined quality about these old catalog guitars as it sets them apart and gives you some different choices in the studio or in performance. This is a really special instrument. I will be thrashed for this statement somewhere, but I wouldn't trade it for a Martin from the same era.
The guitar is in amazing cosmetic shape for its age. It has its share of little dings, but overall the finish is in exceptional shape and the guitar is all original. As usual, James Ralston did the restoration on this one and I was a little unsure I was going to get it back from him as he was smitten with this instrument as well. The neck was reset as well as the bridge. This is where you can see some past monkey business as it looks like the bridge had been off in the past. There are some markings around the perimeter of the bridge that would indicate this.
I have always loved the Maybell brand and have owned a few over the years. None of them have even come close to the quality of this one. This is the type of guitar that you may spend a lifetime trying to find. Its a blessing to find it in middle age, hopefully I still have many years to enjoy it.
Here are some links that James Ralston set up to give you a few more photos as well as to hear the guitar.
https://www.flickr.com/photos/30663205@N03/sets/72157649094734363/
https://www.youtube.com/watch?v=cZFmvfsaOto